Yes, I know it's not HoNoToGroABeMo, but after some heavy coaxing from Linda, I decided to go the better part of a week without shaving. The results were disastrous.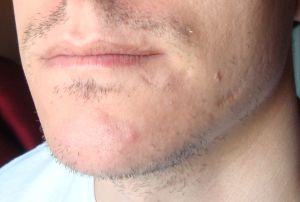 As you can see in this shot, the centimeter-long hairs on my face number in the dozens, and have lots of space between them. Clearly, this face is not meant for beardage.
The second shot shows the seven or eight hair follicles I've got in the sideburn region. An attempt at a serious sideburn would result in a patchy misshapen thing, not unlike roadkill, living on the side of my head. Bad news.
I think the failure of this experiment is enough to never let this farce of a beard appear again.